2012-02-16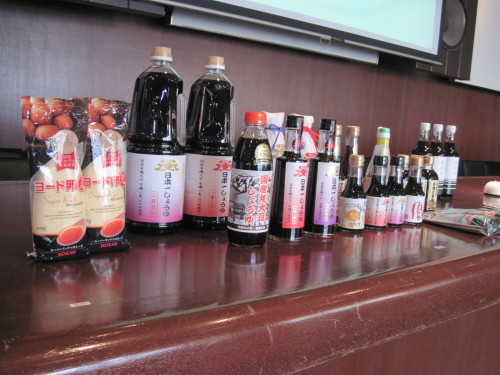 It was two years ago when I first realized the amazing variety of soy sauce brands that were available in Japan. I attended a soy sauce tasting event similar to a wine tasting where you would learn about the people and regions where the soy sauce was made and how best to use it in your cooking. I had seen the extensive selection of soy sauce in my local supermarket in Tokyo before attending this event but actually sampling the different soy sauce and tasting the difference, I finally started to view individual soy sauce like microbrews and wanted to continue trying more.

Discovering these differences in flavors within basic Japanese ingredients such as soy sauce has been an exciting process for me having grown up in a Japanese family living in Texas where Kikkoman soy sauce was the most accessible product out there. Although there is nothing wrong with sticking to Kikkoman since it is the most popular Japanese soy sauce around, it is great to know that I have other options making Japanese cooking that much more exciting to experiment with.

While there are many other soy sauce brands around the world, it would definitely be nice if everyone could try more Japan made soy sauces if they are looking for something to use in their Japanese cooking. I've also been trying a variety of Japanese mirin, dashi, and even salts and sugars and it is exciting how each distinct brand has a different nuanced flavor making my food come out different every time. So make sure to visit a supermarket next time you come to Japan and if you have any questions about products that are sold in the supermarket feel free to ask us at Nagomi Kitchen.