2014-08-12
A nice long feature article was written about Nagomi Visit in today's (August 13th, 2014) Mainichi Shimbun, one of Japan's largest newspapers. What was amazing about the article was not only was it very long and extremely noticeable to those reading the newspaper today since it filled half a page with color pictures, but the hosts and guests interview quotes that were include in the article really explained how Nagomi Visit is about creating a sense of connection between people beyond all the cultural difference you see on the surface.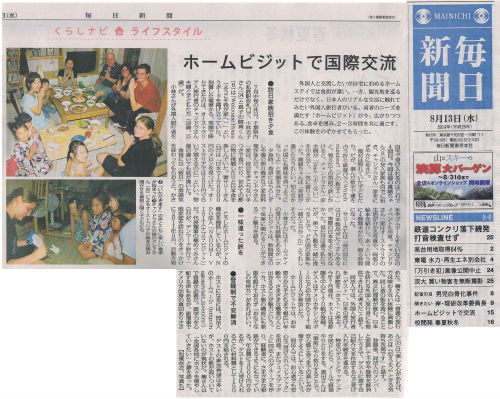 The guests in the interview mentions how although on the surface we may look different, when you are given the opportunity to really sit down and eat together, you start to understand that all of us regardless of what country we are from are essentially part of the same human race.
The hosts in the interview also talk about how great an opportunity Nagomi Visit is in that it allows them to realize there is a whole world out there of interesting people and since for many it is their chance to hone their language skills, it gives many the confidence they need to communicate in this global world we live in.
Arigato Mainichi Shimbun for this amazing article.
Here is the English translation that Mainichi Shimbun provided. Unfortunately I think the translator was pressed for time so the writing is a bit on the dry side so the tone of the article is lost but it does give you a general idea of what the article was about. Those interested in reading the article in Japanese, here is a screenshot of the easier to read online version.