2013-06-28
The show we are going to be on today has been posting various teasers on their Facebook page about the episode we are going to be featured on. This is very exciting. Here is one of the main ones translated into English.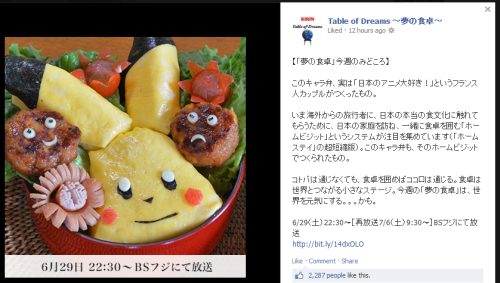 On this week's Table of Dreams
This kyaraben (character bento box) was actually made by a Japanese anime loving French couple.
Right now short homestay programs called home visits are becoming popular among travelers who want to learn more about real Japanese food. This is a kyaraben that was made in one of these home visits.
Food can play a crucial role in fostering meaningful conversation between people of various backgrounds.
This week's "Table of Dreams" may make the world a better place. The dining table becomes the center stage where people come together to connect with the world.
June 29th (Saturday) from 22:30, rerun on July 6th (Saturday) 9:30 on BS Fuji