2013-06-24
So if you have been following Nagomi Visit for awhile you probably already know that our program is going be featured on television this weekend June 29th 22:30-23:00 on BS Fuji.
Now this is BIG NEWS because it is not just a measly few minutes of screen time but a full thirty minute documentary (if you want to be exact probably 29 minutes minus a one minute long Kirin commercial) about what Nagomi Visit is about and what we are trying to accomplish as an organization. It's just us and only us for the full episode. Amazing!
When we were first contacted by the producers it was sure a dream come true but at the same time a bit hard to believe since we had been contacted before with similar offers. Even after meeting the crew and all the filming, it still felt like a dream.
Finally it is slowly starting to feel real with a photo and description about our program on the show's website and only a few days away until the episode airs.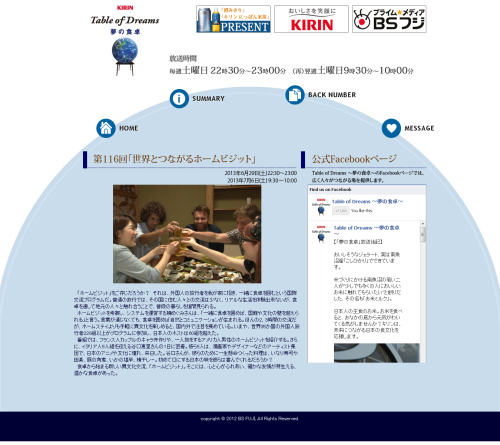 Hopefully we will be able to do a recap for those who are not able to see the show live but before that, here is a rough translation of what it says on the website.
"Know what a home visit is? It's a program where locals welcome travelers from all over the world to come to their home to eat lunch or dinner.
When you're traveling, it is often difficult to find a chance to really interact with locals and get to see what it is like to live in the place. However, with a home visit travelers can get a glimpse by going to a local home and sharing a meal.
Megumi Kusunoki who founded and operates this home visit program believes that there are many cultural boundaries that can be broken just by sharing a home-cooked meal. Not everyone has to be a native speaker in each other's language because food will help to cultivate good conversation.
The program is becoming popular around the world because the experience is similar to a long-term homestay program but can be done in just two or three hours.
There are currently over 60 hosts (note: there are actually 70 as of now), and over 220 groups who have visited these various households from 35 countries.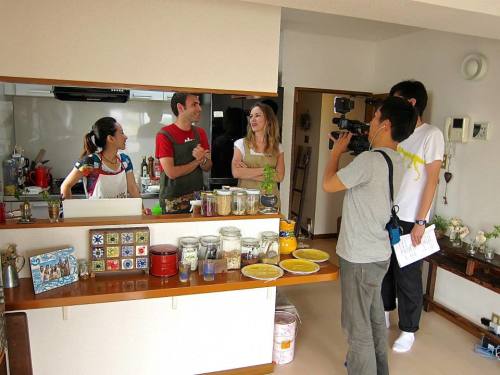 In this episode we will be following a French couple making a Japanese character lunch box, a solo traveler from the United States among others. You will also see Nagomi Visit host Eri Taniguchi as she prepares to meet five travelers from Italy. The five of them who are artists and designers are visiting Japan in hopes to see the country they first came to know through animation and its culture. Eri prepares various dishes for the day including inarizushi fried tofu pouches filled with sushi rice, miso glazed dengaku, braised pork belly kakuni, fermented squid shiokara, and salted umeboshi plums.
Will the guests like the Japanese dishes they tried for the first time?
Let us explore this Home Visit: a new kind of cultural exchange that begins at the dining table. It is where people first come to connect as travelers and locals, but eventually cultivate real friendships."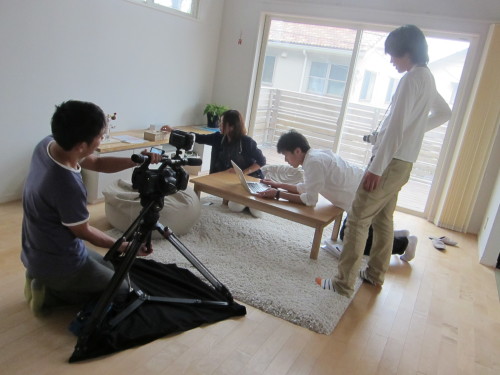 This thirty minute show was a result of four days of filming spending many amazing hours with various hosts, guests, Yuko one of our Cooking Visit instructors, myself Alisa Sanada the Chief Operating Officer, and of course our founder Megumi Kusunoki.
A big huge arigato to all those who were with us during the filming including friends and family cheering us on in the sidelines. Yes, because of your support Nagomi Visit will be making its first major television appearance but that is not the only point I'd like to make here.
All those days of filming and waiting for the show to air have all been an important journey.
Hearing stories directly from hosts and guests, it reassured that they are not just participants but are people who strongly believe in our program's goals of true cultural exchange. We were also grateful to really see that there is a growing solid Nagomi Visit community and it is not just a scatter of ties between individual hosts and guests. Lastly, for the Nagomi Visit team, this will be a big opportunity to share with more people what really motivates us as individuals to run the program we love so much.
So thank you all not just for the screen time but the whole experience!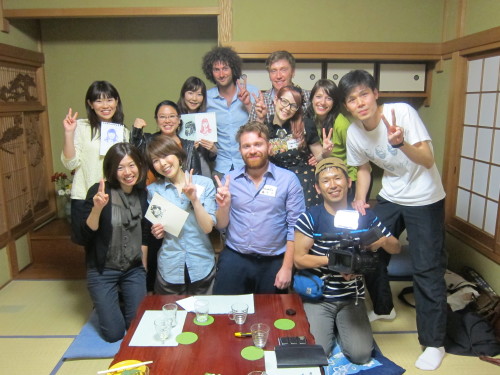 Lets see what happens on June 29th 22:30-23:00 on BS Fuji!