2012-10-17
It's an exciting time at Nagomi Visit right now.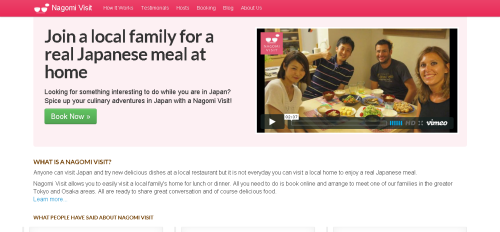 First, we changed our name from Nagomi Kitchen to Nagomi Visit.
How is that exciting you say? Providing a platform for people to discover real home cooked Japanese food is still very important to us but we wanted to put a bit more of a spotlight on the people that are sharing their yummy food with you when you join a Nagomi Visit because they are the backbone of our program. Good food with good people in the comfort of your "home" in Japan is what we want to provide so changing the name to Nagomi Visit was a no-brainer.
Second, we did a complete overhaul of both our Japanese and English websites.
This is exciting news because we wouldn't have done this unless we were sure that people were interested in our program. We have been humbled by the response we have gotten from both guests participating in our program and the hosts who are welcoming our guests. We just started last year as a program but we are already reaching 150 participants and are very glad to say that interest from both sides is growing!
So we wanted to take this opportunity to say thank you to all of you who have supported us through our first year and glad we are able to welcome more people to our Nagomi family!