2012-05-27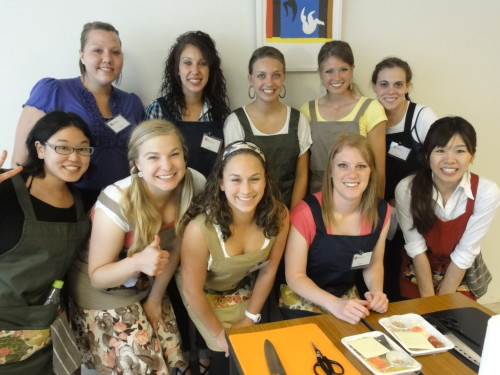 Last Saturday we had 17 participants from Southern Utah University join our cooking program!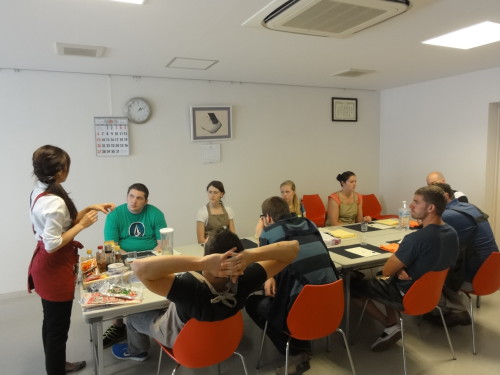 The class started when the first 8 arrived in the morning but preparation for the class actually began the day before. We wanted the group to experience as much as possible in the class so we prepared the program so everyone can try making chirashizushi, karaage, tonjiru from the Basic Japanese Cooking class, and the bento from the Kyaraben Japanese Character Lunch Boxes class in less than 3 hours. Of course this includes time to eat and chat!
It was fantastic to see everyone serious about learning but not too serious that they forgot to have some fun, especially with the kyaraben bento boxes.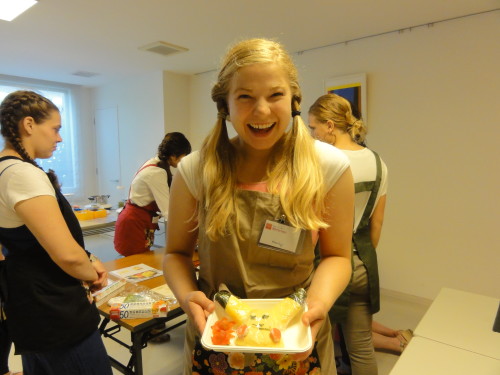 Although I know some struggled a little trying the Japanese-style mayonnaise and raw fish (which I can totally understand growing up in the States), everyone was quite good about trying everything. I always hope that everyone in our classes give these two ingredients a shot since the mayonnaise is different from what you find in certain countries and hopefully the raw fish is more fresh than what you find in your average Japanese restaurant outside of Japan, but no pressure! It's just that I used to not be able to eat anything but now I can pretty much everything so I always want to share the joy that comes from giving things a try not just once, but a few more tries. Because you never know what you may end up liking!
The second group of 9 included the wonderful professor himself who was the one responsible for bringing his 14 students to study abroad and participate in our program. What an amazing person! Lots of thanks of course too for thinking that our program will fit well with the student's studies on Japanese family life, culture, food, and nutrition.
Megumi and I are the ones teaching the class of course but because we always teach a diverse group of people, we are also learning from them every time. This time was especially meaningful to me personally because the students were from the US and they reminded me of myself 10 years ago. It was a wonderful feeling being able to share the Japanese side of my Japanese-American identity with them. Hopefully it will have some positive effect!
Last but not least, we must not forget to give recognition to the following two lovely ladies who assisted us for the day.
We must never forget Megumi's mother who is always helping with the classes. She seems quite popular among our past participants!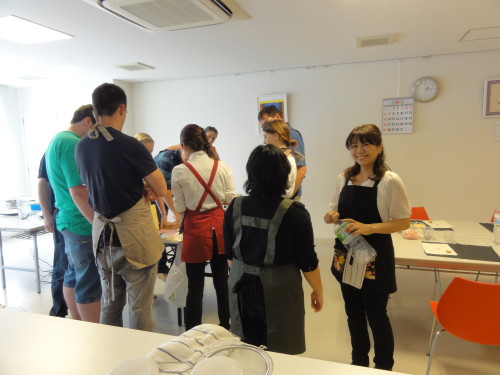 And this is our special guest for the day, Megumi's sister who helped us just for the day. We couldn't have done it without them!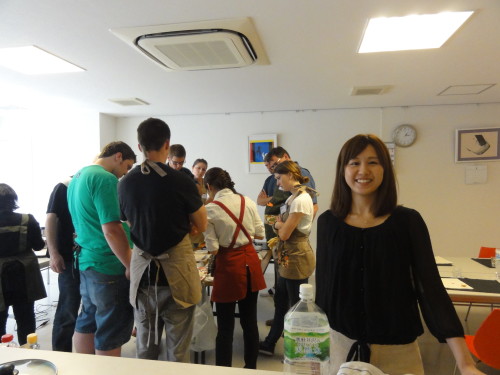 The small groups of two or three are great but there are many things to learn from these large groups too so hopefully we will get more opportunities like this again!
Note: we no longer conduct Nagomi Visit cooking classes but feel free to look for Nagomi Visit hosts who are interested in cooking with you by checking their profile pages. Nagomi Visits are not cooking classes but it will be an enjoyable experience like cooking with a friend.