2012-04-10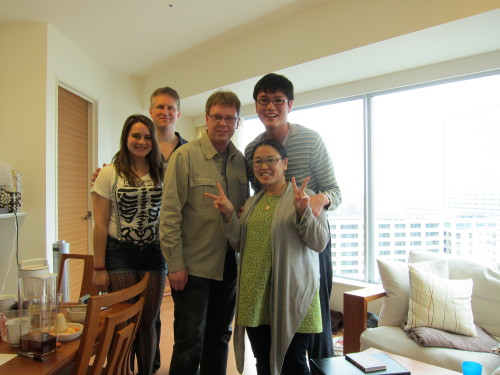 I'm usually Alisa Sanada co-organizer for Nagomi Kitchen but last Sunday I was host to a lovely family from Montreal and a very enthusiastic traveler from Moscow. I made kawarasoba which is a dish we always love to make when we have guests visiting Japan.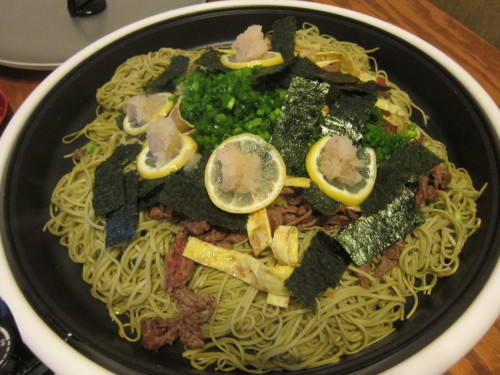 This dish which literally means roof tile soba, is a Shimonoseki specialty. Although Shimonoseki is famous for blowfish worldwide, not many people actually end up visiting the area. Dishes such as takoyaki and okonomiyaki from the Kansai area are quite famous and if visitors have more time they might be exposed to dishes that are famous in Hokkaido or Okinawa, but everything else in between is usually a blur. Making kawarasoba is just my way of introducing at least one of the underrepresented areas in Japan.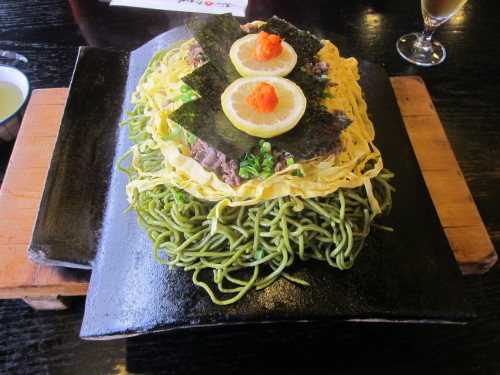 If you happen to end up trying kawarasoba at a restaurant, this is what it would look like. Of course it looks pretty with the noodles actually on the roof tiles and it sure is good, but like the houtou noodles I ate nabe style a few weeks ago, it's great to eat these regional dishes at someone's home since it makes the dish more accessible. If you eat the kawarasoba with us, you can obviously tell that you can use an electric griddle instead of heating up a roof tile, and use normal buckwheat noodles or udon noodles as a substitute for the green tea noodles since they are sometimes difficult to find.
Try it out at home or come see us when you come to Japan!
Note: Nagomi Kitchen has changed to Nagomi Visit. See more information about our current program on our site.